Incorporating biosensing technologies into simulations may seem like a no-brainer, and it can be, as long as you adhere to the list of best practice questions we outline in this article. Simulated environments are useful for testing scenarios before they become reality – to ensure safety, assess and train for performance, understand user interactions, and develop future applications. It makes sense to place people in simulators to detect their cognitive, physiological, and emotional behavior in response to that environment. With biosensors like eye tracking, facial expression analysis, heart rate monitoring, or muscle activity assessment, you can collect in-the-moment behavioral reactions. However, that all hinges on your ability to accurately capture, analyze, and maintain the data you collect in a biometrics simulator lab, from setup resources to data collection and education. In this article, I'd like to share with you a run-down of the types of checklist questions we ask potential clients of iMotions to help them assess whether they are ready to make an investment in a simulator lab.
Question 1: What is your research purpose or application field?
Simulators are definitely not one size fits all. They can fit on a desktop or take up an entire building, and their prices can range from $50 for X-Plane on a simple SteamVR setup, to millions of dollars in acquisition cost and operations. And the range of industries that simulators are applicable to is even broader. Consider this non-exhaustive list:
Aviation: air traffic controllers, pilot training, or (re)certification
Automotive: engineering, UI, Driver Monitoring Systems, impaired driving, autonomous driving, motorcycles
Consumer behavior: in-store shopping, virtual checkout, store prototypes
Maritime: navigation, logistics, battleships
Transportation & Logistics: railroad, mining
Defense & Law Enforcement: training & performance, emergency response
Healthcare: surgical or medical training, rehabilitation, clinical research
Human Factors: Human-Computer Interaction, mechanical engineering
Urban Planning: intersection research, bicycle paths, architecture
Workspace: workstation analysis, cognition & fatigue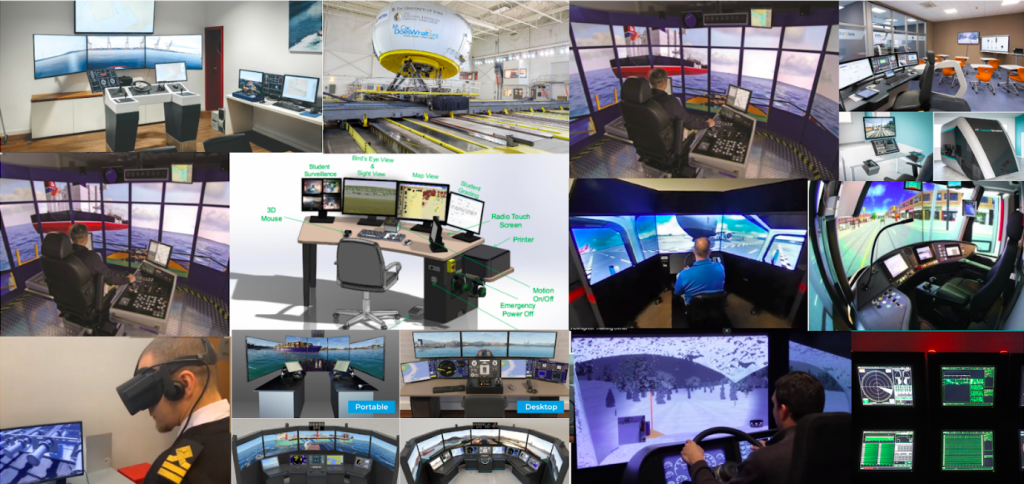 When we meet potential iMotions clients within these application areas, we typically want to find out what the scope of the questions they're investigating is. Is it UX/UI/Design questions? Is it for personnel training? Does it have an educational component as well? Usually, the answer to these questions is: "yes, all three." We, therefore, recommend meeting with your team and aligning on the primary and secondary objectives of the lab. Having a cross-functional agreement will help you designate appropriate stakeholders who all understand the common goals and how to achieve them.
Question 2: How many people will be establishing, maintaining, and using the lab?
You should conceptualize your simulator lab as a common resource used across many people and departments, but with clear lines as to who maintains what. Inviting several stakeholders or departments into the leadership of the lab gives you the opportunity to create a shared resource that many people will have an active hand in organizing and maintaining, in terms of startup costs, daily participation, lines of command, and lab sustainability.
Then, there's the people power, as it relates to actually running day-to-day operations. This is one of your most important resource questions. Who will actually manage the lab? Will you have a dedicated lab manager? Will it be your IT department? If you have a lab manager, is that person a student?
We ask these questions because you should be thinking about the competencies needed for the inherently complex simulator research. The lab manager should know how to operate the sensors & software at the very least; ie, debugging a Bluetooth connection, connecting the sensors to the software, and collecting data from participants. But you should also consider finding someone who also knows how to analyze the data you collect. Having a postdoc, PhD student, or hired staff act as the lab manager gives you the advantage because that person's research and/or data skills will be invaluable when other lab users come looking for help. It also broadens the lab's availability to people who may not know how to collect and analyze data themselves, but who could majorly benefit from biosensor research findings. In addition, this hired staff will help minimize turnover & brain drain, because if that person is a student, what happens if you have to re-train or certify additional lab managers to be able to consult on gathering insights from the data? All of a sudden, your lab is not as flexible as you intend. iMotions can of course help you with the insights piece, and we have a strong consulting component to our business, but it's still nice to have those capabilities in-house for a longer period. It is important to note that the initial start-up costs for buying your initial software and hardware may be less than your overall operational costs to pay this staff, so make sure you've factored in plans for long-term staff costs to keep your lab productive, for longer.
Question 3: What software and sensor hardware will you be using?
For the physical space, we typically recommend finding a common lab space for the data collection computer(s) itself and then distributed analysis stations. In practice, this means that you should have a designated office or lab that has enough space to install a simulator (with enough square footage for however many screens, data collection stations, and hardware it requires). Analysis stations can then be adjacent but also distributed in other locations so that everything is not housed on one computer (which limits the availability of performing data analysis if you have to rely on the same computer for data collection).
Then, the question of which sensors to go with depends entirely on your research question. iMotions is a viable solution for many researchers working with multimodal behavioral research because we aggregate and timestamp your sensor data in one system. For example, if you want to study cognitive workload in battleship captains, you might consider working with EEG and eye tracking, so instead of purchasing an EEG headset and eye tracking glasses individually with their proprietary software where you have to triangulate 2 sensor data streams together with the stimuli/events coming from the simulator, you can use iMotions to avoid learning 5 different software. This gives your lab manager, researchers, and students (if applicable) less of a steep learning curve and gets you through your research pipeline faster. It also allows for maintaining one line of support, because not only do your lab managers maintain expertise on only one software, but they can perform the data analysis themselves as well, helping out the other researchers or even students who use the lab. This sustains the viability of your lab much longer than purchasing sensors individually & their accompanying software.
Question 4: Do you have buy-in?
It is only inevitable that, after a few years, the person who had the original vision for the lab will move on. Maybe that's you, and you don't want the lab to live and die by your singular passion and dedication, or maybe it's a colleague whose vision you share. Either way, it's crucial to solidify buy-in from multiple decision-makers so that one person is not responsible for the lab staying alive. These stakeholders need to understand what research questions can be answered by a simulator lab, as well as what external visibility the lab can bring to your institution so that short- and long-term costs are justified. These decision-makers are your go-to people for allocating resources to secure long-term financial backing for the lab, be it grants, internal funds, or budgets (think: a Dean, Head of R&D, Departmental Chair, etc). They might also, in the case of university labs, be the ones to point groups of students and faculty toward using the lab to teach, learn, or collect data. Since it is usually not the faculty who knows how to operate iMotions or the simulator, you'll nevertheless need a director-level person to have a conceptual understanding of the necessity of your lab so that it can enjoy a central role in the institution's operations.
Question 5: What is the long-term vision?
Finally, the last question you should be asking yourself on your path to readiness for a simulator lab with biometrics is about your long-term plans. What do you dream about when you think about carrying this research into the future?
For many, it's training and performance goals: helping people acquire good skills, regardless of their industry, and creating an efficient model for training these skills. As a trainer, you can create a symbiotic relationship between technology and humanity in your simulator lab: to help humans gain proficiency in a task while assessing their emotional reactions simultaneously so that they can regulate their bodies and performance through biofeedback or data inputs. For example, I recently had the chance to hear Formula 1 race car driver Kevin Magnussen speak about how he uses data to optimize his racing technique, and he said that "feeling" an apex of a turn works in tandem with "knowing" it – and that data can highlight insights about his emotional or physical state that he hadn't been able to put words to. Simulations can help him train these reaction times even further to find this symbiosis.
For others, imagining the future of simulations is in the realm of improvements to human-computer interaction. As more autonomous driving, robotics, and computer-assisted navigation become de rigueur, using biometric analysis in simulated environments is a crucial step for research to bring the human aspect back into artificial intelligence. To avoid future human/software errors, like for example the Boeing 747 Max airplane crashes, simulators can help build better human-centered technologies and validate human behaviors in situations based on physiological feedback, as well as train them to respond to computer-assisted events in a way that is safer and more efficient for everyone.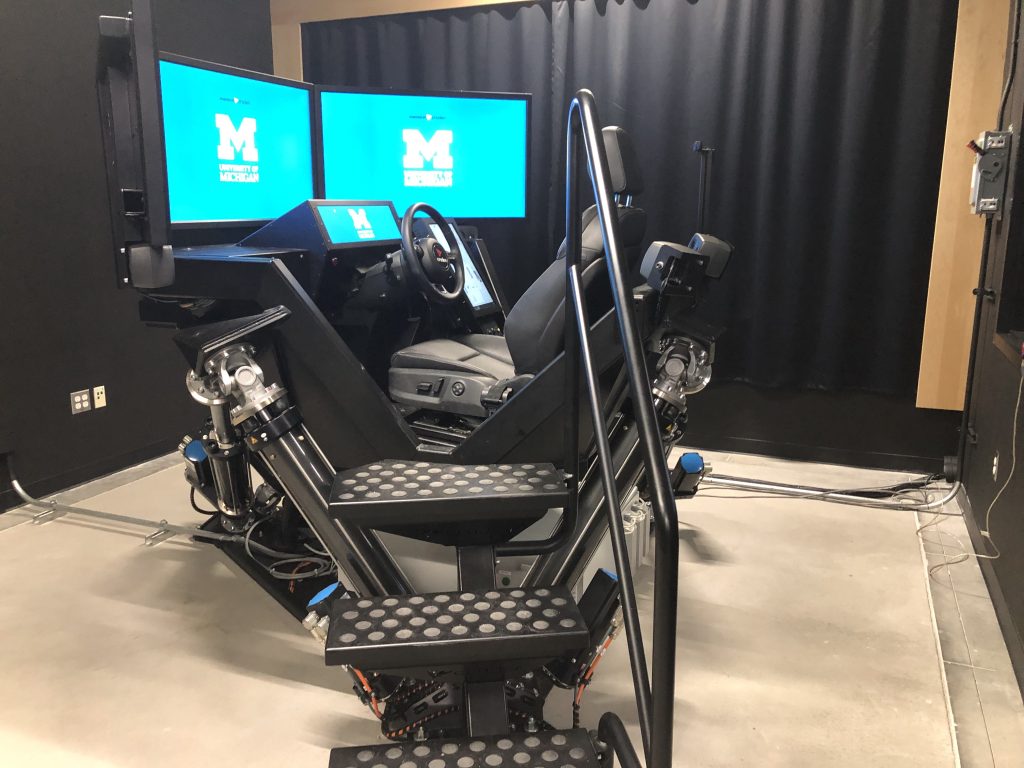 Get inspired by the University of Michigan, Dearborn's Lab
If you have read this far and believe you have the capabilities to make a behavioral biometrics lab with simulators, look no further than the Institute for Advanced Vehicle Systems for inspiration. Recently, they installed iMotions in their new driving simulator in their Vehicle Motion Simulation Lab, and their story can serve as a model on how to get things off the ground in the right way.
The Institute does applied research in product design, development, and manufacturing of advanced vehicle systems, so they recognized the need to collect physiological data in their new automotive simulator, developed in partnership with Cruden. With iMotions running mobile eye tracking, ECG and GSR, they are able to monitor user states and human factors as they try to understand the interaction between drivers and vehicles to design cars that better meet drivers' needs. To their advantage and expertise, they are positioned in a region that is chock-full of car companies, which consolidates high-level automotive knowledge in the local academic and industry landscape.
iMotions Senior Technical Product Specialist Nam Nguyen visited Michigan to get iMotions installed and to train the on-site team in the methodologies. It is clear to him that the promise of success for this simulator is that they have the right skills to power and maintain the lab and generate insights – and the people who are enthusiastic about the power of this technology and data. Take it from the lab's tech operator Ian Beattie:
"The data we're pulling is fantastic. We're able to get a lot of really interesting visualizations, the hardware works seamlessly – we've been really impressed with the setup so far." – Ian Beattie, Tech Operator, University of Michigan, Dearborn – Institute for Advanced Vehicle Systems
An undergraduate student studying data science also remarked that it was great to apply what he is reading about in his courses to the lab directly, learning about how to collect data from these physiological signals like GSR & ECG and see the metrics in real-time. He said he feels like "I'm becoming what I'm reading," and bringing in new ideas and research questions he hadn't thought about previously.
Conclusion
Think you're ready to take the plunge? Keep this checklist in mind as you go through the readiness process, and you can always reach out to us for a consultative intro call.
Free 52-page Human Behavior Guide
For Beginners and Intermediates
Get accessible and comprehensive walkthrough
Valuable human behavior research insight
Learn how to take your research to the next level