The Complete Human Behavior Research Platform
The iMotions software is a modular system, with a central hub upon which a variety of biosensors and their corresponding modules can be integrated. This multi-modal approach is designed to streamline human behavior studies, from study design and stimuli presentation to data collection and analysis, all in one unified software suite to advance human behavior research.
Whether you are working within social science, doing observations, studying human factors, conducting usability testing or working in a simulation environment, iMotions is your answer when looking to capture the full human experience.
Design studies with any mix of stimuli
iMotions allows you to use any type of stimuli for your study and intuitively visualize your study data. Work with images, video, VR environments, web content, or 'in the wild' setups. Build advanced study designs by point and click. Easily set up participant groups, randomizations, and block designs as needed. Through add-on sensor modules, you can extend the collection capabilities to also allow online remote studies and mobile data collection.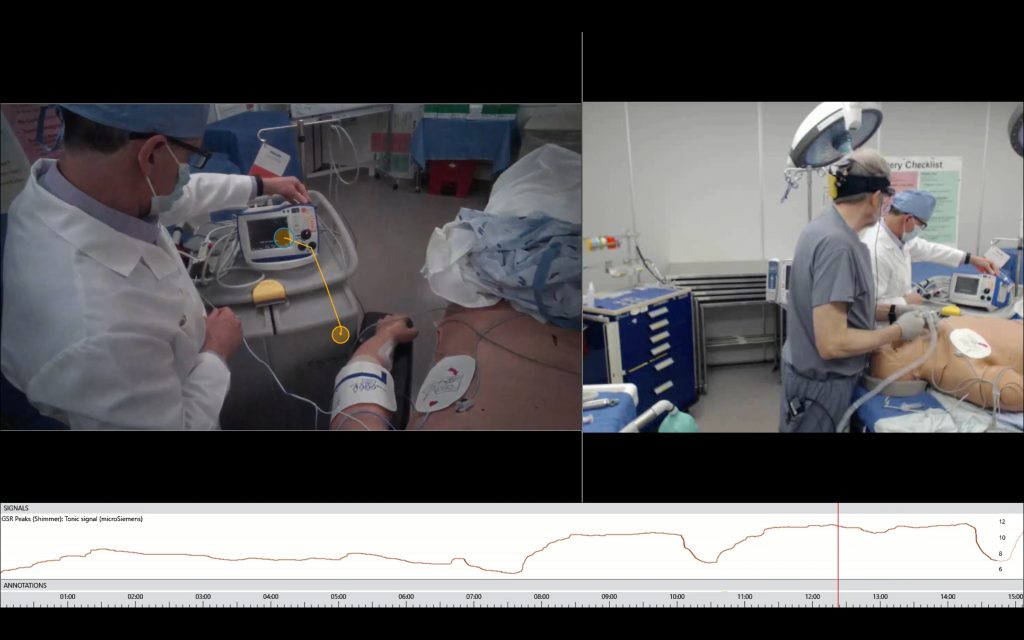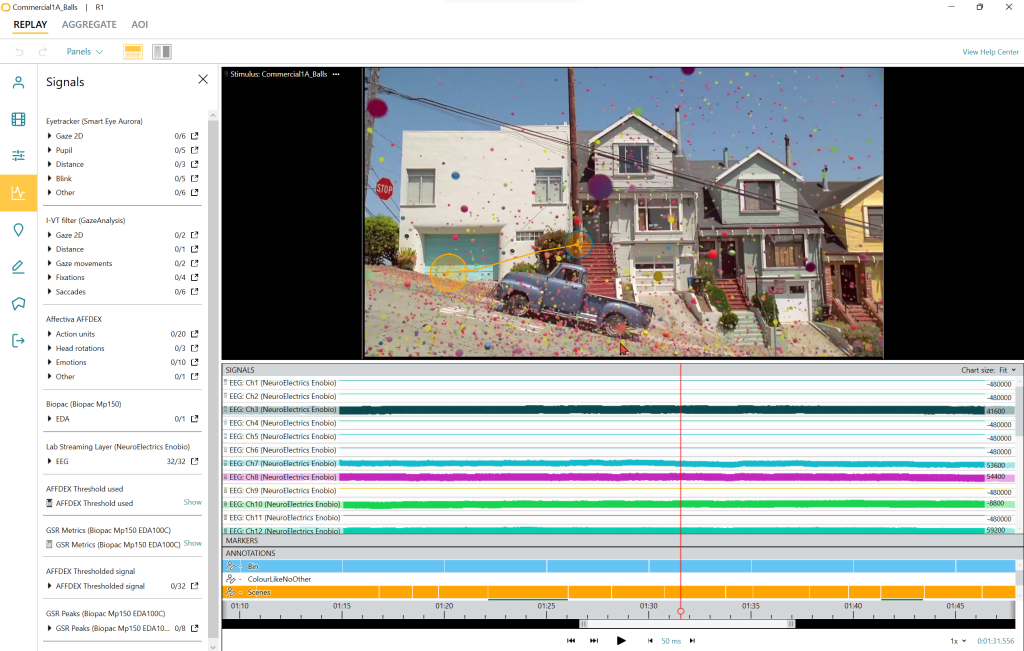 Work with any biosensor
The iMotions platform seamlessly integrates and synchronizes multiple biosensors that each provide different human insights; such as Eye Tracking, EDA/GSR, EEG, ECG, and Facial Expression Analysis. Effortlessly integrate and synchronize different sensors from a wide range of independent vendors, across multiple modalities.

Add even more sensors through the Lab Streaming Layer. Forward data in real-time and import external sensor/software data and loop it back into the platform via the API.

We are hardware agnostic with the ability to integrate 50+ sensors from 20+ partners.
Analysis methods that work for you
iMotions provides a comprehensive suite of visualization tools and analysis methodologies. Review, annotate, and slice data as needed. Process data with built-in and transparent R Notebooks. Export raw data, results, and metrics in file formats suited to Excel, SPSS, MatLab and more for further analysis.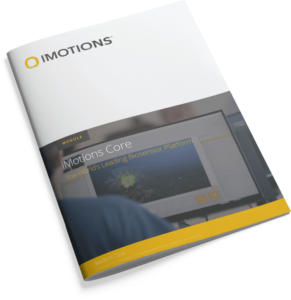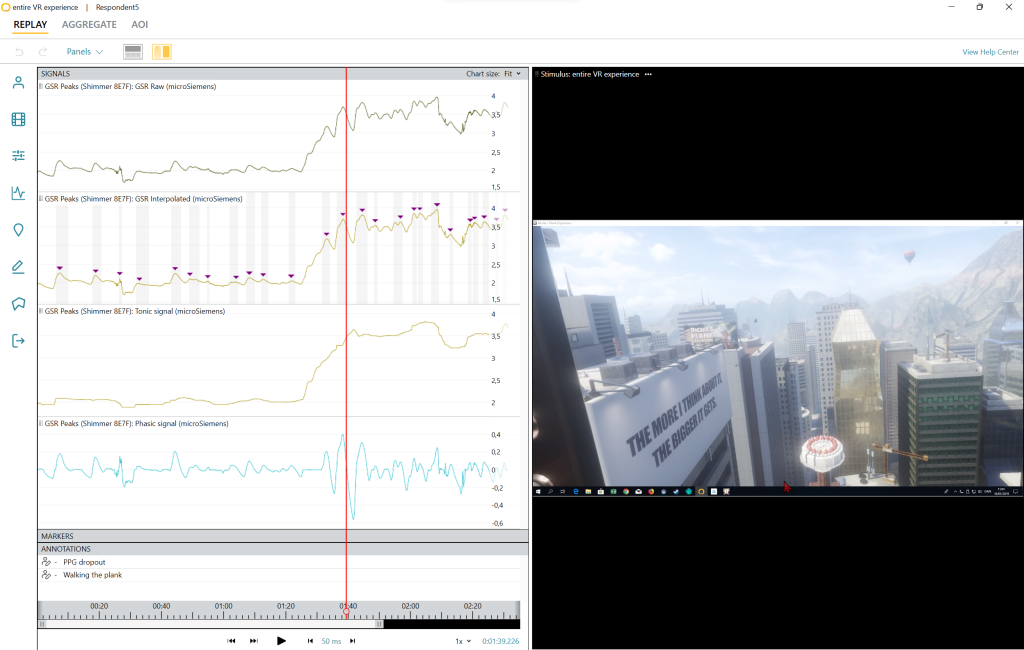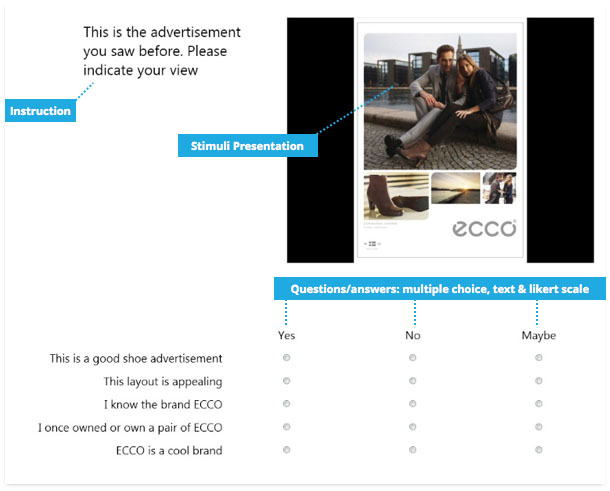 Built-in Survey Tool
iMotions Lab is designed for mixed methods research and the built-in Survey capability provides flexible tools to design a questionnaire with images, likert scales, multiple choice or text input answers to triangulate participants' stated answers with nonconscious responses from biosensors.
Including surveys in real time by fusing them into a study with other stimuli and physiological sensors can dramatically enhance study findings and mitigate the risks of response bias. The iMotions Survey Tool is always included with your software purchase, so survey integration is easy.
Design a survey from scratch or edit existing surveys. The survey can be stored as a template and retrieved later when necessary. iMotions Lab also has a robust integration with Qualtrics for advanced segmenting and logic.
Data Collection Modules
Collect data from various sources with add-on modules. See our hardware store to find compatible biosensors.
Features
Study Design
Stimuli Presentation
Data Collection
Markup & Annotations
Data Analysis
Data Import / Export
Face / Environment / Scene Camera
Survey
R Notebooks
API
Study Design
Build advanced study designs by point and click.
Support within- and between-subject designs, randomizations, block designs, etc.
---
Get a Demo
We'd love to learn more about you! Talk to a specialist about your research and business needs and get a live demo of the capabilities of the iMotions Research Platform.
Customer Support Program
Included with all our subscription plans
Software
Continual, unlimited access to the iMotions software, with updates every two weeks
Consulting
Personalized onboarding, training and ongoing consulting for the entire research process
Support
Technical support is provided year-round, with 97.6% case satisfaction
Help Center
Over 300 (and growing) continually updated articles are provided for guidance and support
Community
Connect, share knowledge, and build collaborations with researchers from all over the world in the iMotions Community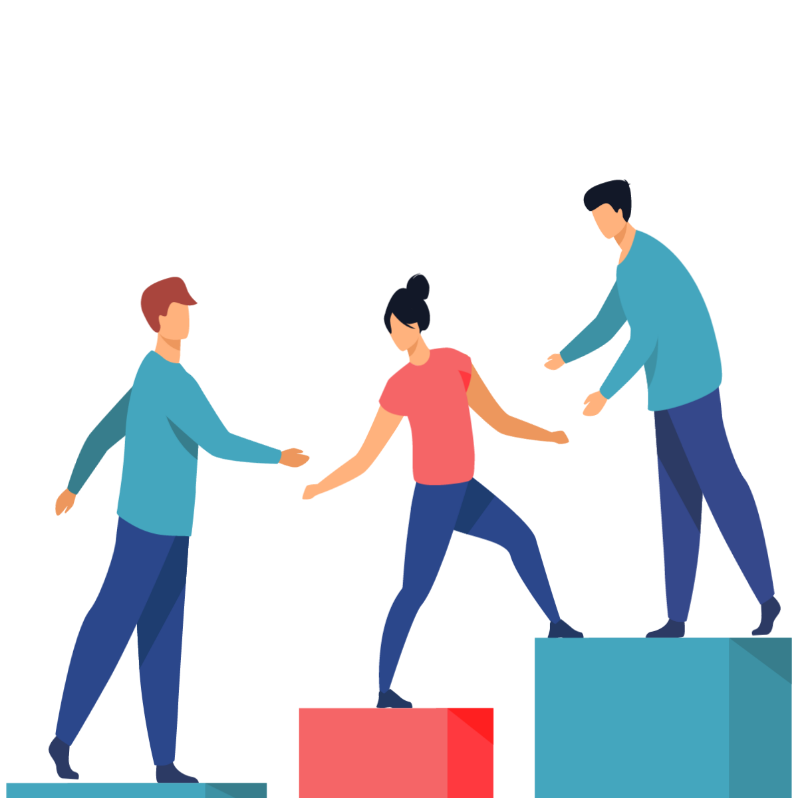 ---
---
FAQ
Here you can find some of the questions we are asked on a regular basis. If you have questions you cannot find here, or elsewhere on our website, please contact us here.
What is iMotions Lab?
How do I buy iMotions Lab?
How does iMotions work?
Which biosensors can I use with iMotions?
Can I use iMotions Lab without additional modules?
Does the iMotions Lab license come with support?
---