The ways of applying biosensor methodology to human behavior research are as vast and varied as humans themselves. Customers of iMotions research everything from consumer behavior to automotive simulations and academic brain-computer interface studies. What unites the research across sectors is an ambition to inform and advance scholarship in human behavior — and to stay at the forefront of research methods and new technology.
One such way we're excited about this is clients who work together across academic and business applications to conduct mutually beneficial studies. Today we're highlighting a partnership that does just that — between University College Lillebælt and Rynkeby Foods in Denmark.
Read on to discover how studies with iMotions can unite applied science and business schools with local commercial enterprises for greater collaboration and next-level insights.
Collaboration with University College Lillebælt (UCL) & Rynkeby Foods
Maria Tipsmark is Lecturer and Project Manager for the NeuroLab at UCL University College, a university college in Odense, Denmark that specializes in job-ready education paths. The NeuroLab uses biosensors and other neurotechnologies to create better products, solutions and services for users and customers. They test prototypes, packaging, and sales material and optimize on everything from physical products to online platforms, with the unique selling point that the lab collaborates directly with local companies, where students are directly involved in the studies. For this study, they worked with Rynkeby Foods, the largest manufacturer of juice in the Nordic region. Rynkeby's Research Manager Thomas Hildebrand Christiansen was interested in seeing how they could gain insights using biosensors with UCL.
Understanding Shopper Behavior in Discount Grocery Stores
The central research question was: how do consumers navigate in a shop, and are there any differences in the way consumers behave when they search for categories of grocery goods vs a specific item? UCL worked with students studying digital concept development and marketing management. They recruited customers to wear high-end eye tracking glasses while they shopped for items of their choosing within predefined categories, in addition to observing their behavior and screening them before and afterwards. From there, students and the NeuroLab worked together to analyze the respondents' eye tracking data to make conclusions about consumers' navigation, eye scanning, and other aspects of their behavior as they found the items.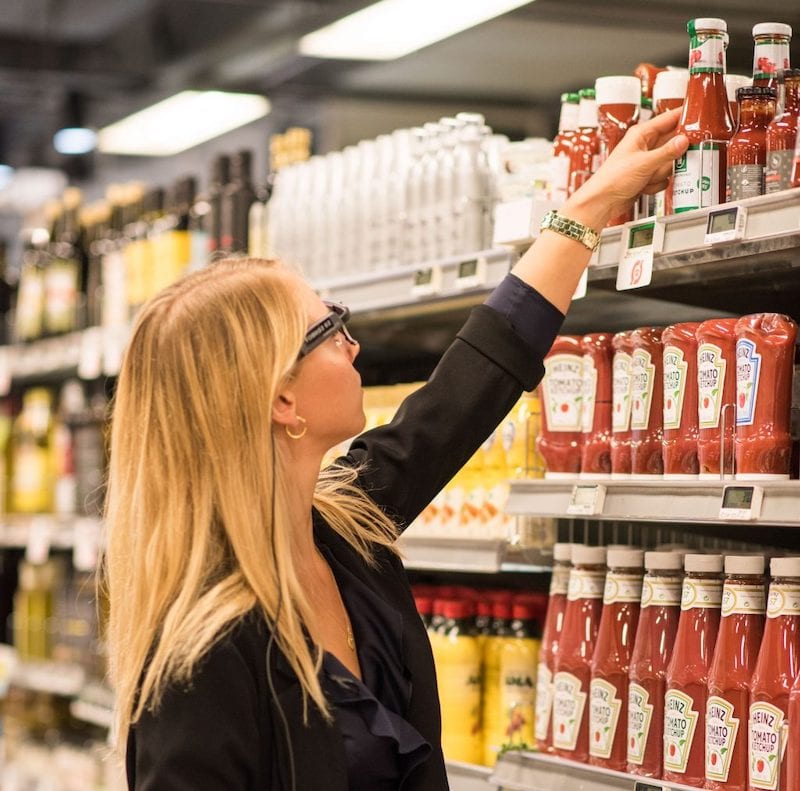 Learning by doing: Getting access to new data
Maria Tipsmark accentuates the advantages of working with students on such projects: "Students are very important when we do projects like this. The students were part of the planning and setting up of the test, together with Rynkeby. Furthermore, they conducted the test in the shop, did part of the data analysis, and went to Rynkeby and presented their findings which was a great experience for them!"
For Rynkeby, this collaboration provided the opportunity to carry out two studies that upped their knowledge about the brand's consumers thanks to the data, which gave perspectives they wouldn't have had access to before. Without UCL's involvement, the studies would have been possible with other researchers or analytics agencies, but far too costly and time-consuming to achieve. Therefore, working together across academia and business was beneficial in terms of access to tools and new data perspectives.
Thomas Hildebrand Christiansen also argues that working with biosensor data along with students at applied science schools is a win-win for companies, because the schools offer an attractive package of facts-based analyses whose conclusions are more validated than student-led focus groups. "My impression is that business academies have particularly good opportunities to take on an advisor role in their local business community thanks to tools like these," he says.
The partnership has also been fruitful for students, who not only get hands-on training on the biosensor equipment and software, but who also gain on-the-ground experience in businesses that enables concrete outlets for career advancement.
This is a way for companies to establish biometrics departments themselves, and staff those departments with new grads
-Thomas Hildebrand Christiansen
How Innovation happens between industry and academia
Working with biosensor data is still relatively new in both academic and business contexts. However, the value of learning how to leverage these new technologies is tremendous, and the non-biased nature of the physiological results that iMotions produces allows students and newcomers to biosensor research alike to ramp up quickly. Moreover, combining biosensor data with traditional market research methods can provide for even stronger insights. iMotions offers hands-on practical training in the use of neurotechnology for you to get started in a fast and reliable way. If you are interested in learning how to use these methodologies to conduct studies in a context like UCL & Rynkeby, you can express your interest in participating in our Academy here.