Human behavior research has often grappled with choosing between two alternative approaches to experimental work – studying behavior in controlled, or natural environments.
On the one hand, carefully controlled lab settings allow fine-tuned changes to experimental setups to be made – the participants all experience the same setting, with little room for experimental noise to be introduced, and a single experimental variable is adjusted.
The experiment works well as it's possible to measure how human behavior can vary in response to an identifiable change. The downside is that these environments are inherently unnatural – by removing the chance of variation it's often the case that the environment represents real life less and less.
On the other hand, experiments carried out "in the wild" allow participants to behave and experience the world in a way that is normal and natural. A single experimental variable will be changed, but the chance that experimental noise can be introduced is high. This means that more natural behavior will be carried out, but it's more difficult to assure that any change is solely due to the experimental variable.
If we want to really understand human behavior (and spoiler alert: we do), we often need to compromise between these two approaches. We need to assess how much noise we think will be introduced, and how much variation is acceptable to create an environment that feels right to the participant. Making that decision is a big part of the experimental design process. However, there is sometimes a third way: simulations.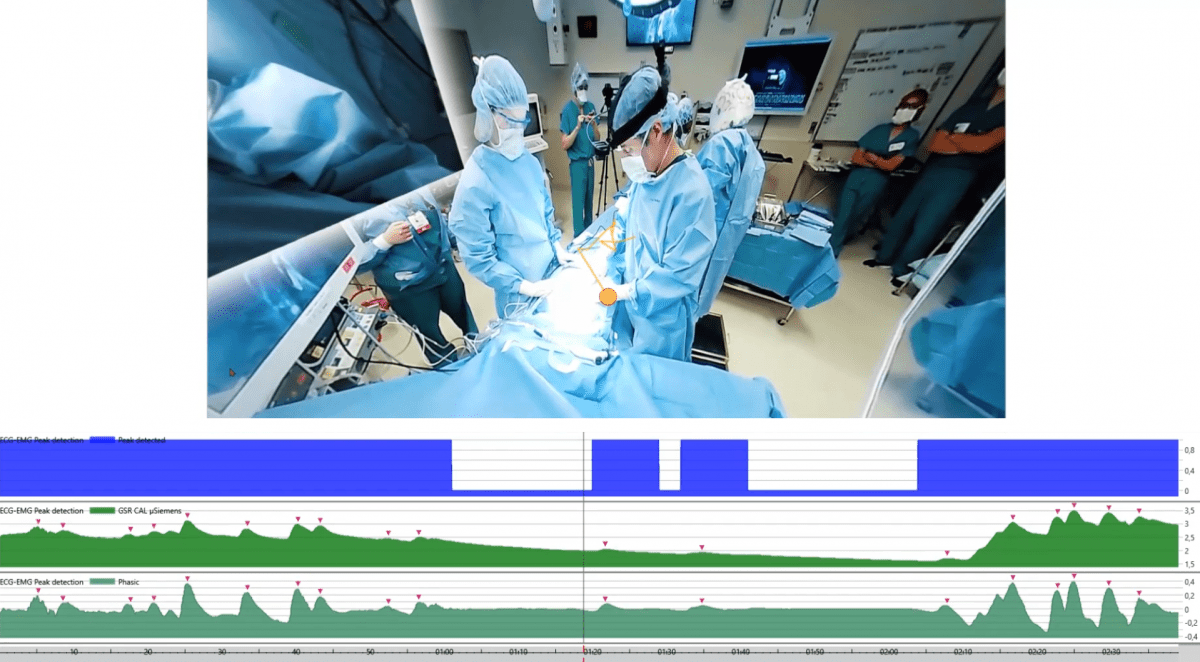 iMotions being usd in a VR context, while eye tracking and galvanic skin response data is collected.
What is a Simulation?
A simulation is an imitation of a real thing. Within human behavior research, it often takes the form of a controlled presentation of a setting that can't reasonably be experienced by a participant. While it may be interesting and important to know how a pilot reacts in dangerous flying conditions, it's clearly not ideal to make this happen in real life.
Simulations allow us to not only test responses to settings that are dangerous, it also allows us to precisely replicate them. We can see how different pilots (or non-pilots for that matter) react to the same dangerous setting time and time again.
A flight simulator is an obvious example of a commonly used simulation for assessing behavior, but there are now a surprising variety of different simulators, all aimed at measuring responses in high-fidelity environments. With the rise of VR, it's now also possible to create entirely new environments (and even to create unreal ones) with little relative cost.
These environments have become both more accessible to researchers and participants, with a better understanding of aspects such as motion sickness [1].
Below, we'll go through examples of different simulation scenarios, and how researchers are investigating human behavior in each.
Driving and Beyond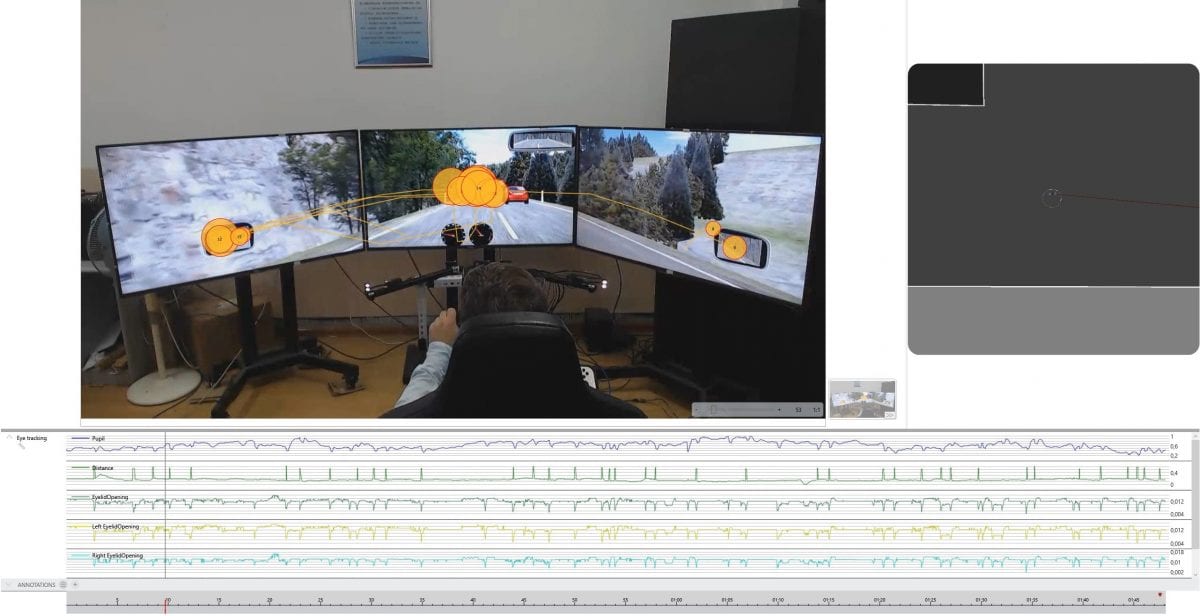 Driving simulations are familiar to many of us. Found in a similar form in many games arcades, the simulators provide a safe environment in which to test driving skills and responses, complete with a steering wheel, gears, and sometimes much more.
The driving lab at Stanford uses a real car surrounded by high-definition screens to provide an immersive experience of driving a car. The data from this vehicle and other sensors are all integrated within iMotions to help the researchers understand driver behavior.
Research often focuses on how to improve driver (and pedestrian) safety by testing which factors can impact the likelihood of an accident. Testing out new features that can improve (or worsen) driver awareness can be readily completed inside a simulator without any real risk.
Researchers have used sensors such as EEG to investigate mind-wandering in a driving simulator [2], finding that not only can this mental state have a negative effect on driving ability, it can also be detected – opening up the possibility of equipping cars with sensors (possibly, although not necessarily EEG) that can provide relevant warnings should the driver's attention shift too far from the road.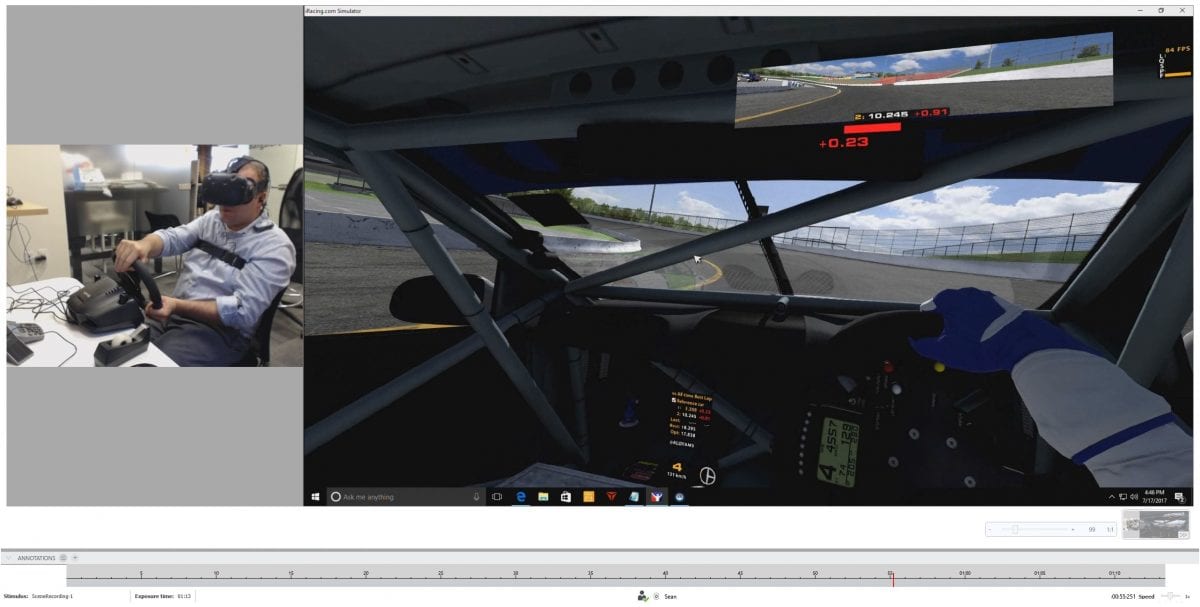 Eye tracking is also a popular tool used within driving simulators, as it offers the possibility of implementation into a real-world vehicle without the technical constraints that EEG imposes. Researchers have used eye tracking to estimate cognitive load [3] within a driving simulator, suggesting this could be used as a method to monitor the cognitive states of drivers.
Both of these methods – EEG and eye tracking – have also been combined with iMotions in a driving simulator to test out an early warning system for drivers [4]. Cognitive load and the measurement of cognitive states through EEG was used in a preliminary test of driving behavior. It was found that these sensors could indicate whether or not an early warning system of danger needed to be delivered or if the driver was already alert enough.
Beyond driving simulators, researchers also explore behavior in a variety of other vehicle simulators, from flight simulations, to maritime research in ship simulators (Force Technologies uses iMotions to assess ship steering behavior in a fully-rotational freight ship simulation).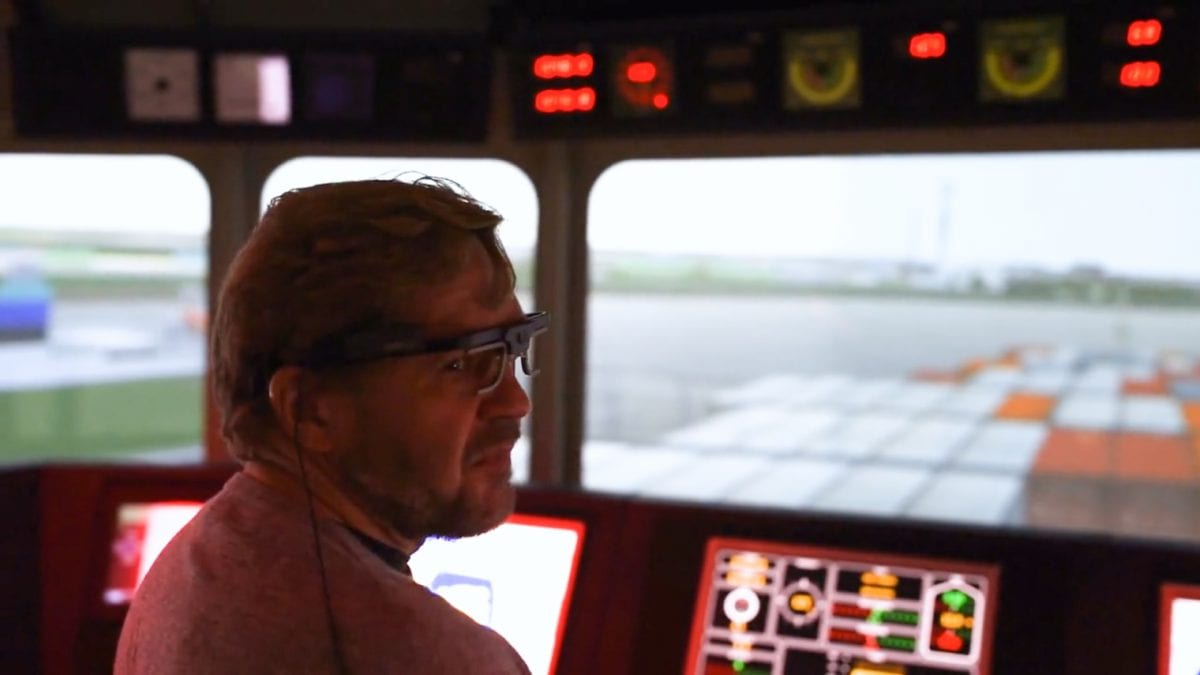 Work Simulations
Simulations aren't necessarily bound to a vehicle, but can also take place in environments where participants can freely move around. Researchers have, for example, used eye tracking within medical education contexts to evaluate how well each aspect of a protocol was attended to [5].
Simulations determining control room operator performance, in contexts ranging from nuclear power plants [6], petrochemical power stations [7], and air traffic control towers [8, 9, 10] commonly use eye tracking and / or EEG to assess the attentional and cognitive resources of operators.
Researchers at the University of Luleå use iMotions and a variety of sensors to study the cognitive processes occurring in naturalistic simulations of train traffic controllers.
The use of simulations can even be expanded into military applications. Researchers have gone to great lengths to recreate realistic simulations of weapons [11] and war-like environments [12] in order to understand the cognitive and physiological pressure that soldiers are often placed under.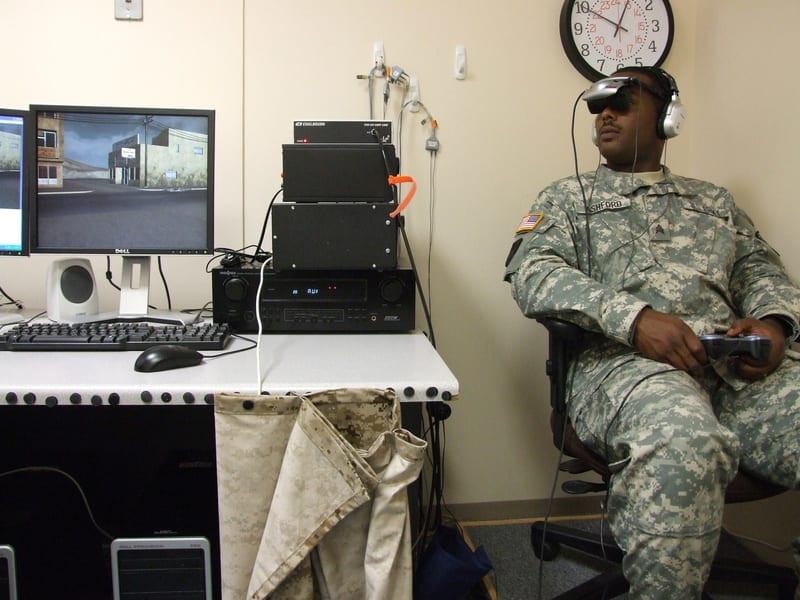 Various investigations have also focused on how military pilots respond to demanding situations, in which quick decisions have to be made. Eye tracking has been used in this context to investigate the impact of visual load (how much visual information is presented), and how this can impact the decision-making capabilities of the pilots [13].
Researchers have also explored the use of EEG and heart rate measures within both real flight and flight simulations [14]. The results indicated that the most challenging aspects of the operation could be identified on an individual basis for the pilots, providing data that could inform which aspects of training would need more work for each pilot.
To get a better understanding of one of the central modalities in research using simulations, download our free eye tracking guide below.