The human brain is both complex and fascinating. Whether you're awake or asleep your brain is always active, collecting and processing your surroundings and absorbing data. To study the processes underlying human behavior there are several different tools, but one of the most versatile techniques is Electroencephalography.
The following books will introduce you to the vast world of EEG and give you some thorough guidelines into both the theory and practical approach to the subject as well as the tools to interpret the data. N.B. the books are not ranked in any way.
1. Niedermeyer's Electroencephalography: Basic Principles, Clinical Applications, and Related Fields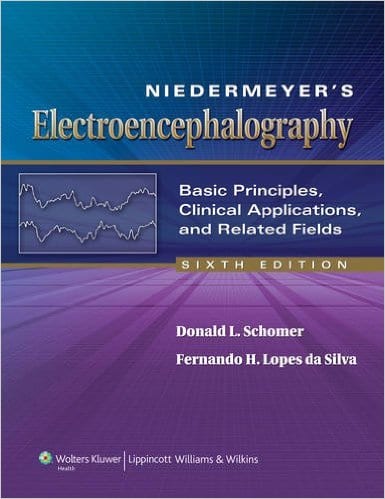 Editors: Donald L. Schomer MD & Fernando Lopes da Silva MD PhD
Considered one of the leading reference books about EEG since first published in 1982, Niedermeyer's Electroencephalography is a must on this list. The book provides coverage of the neurophysiologic and technical aspects of EEG, evoked potentials, integrating other recording devices with EEG, magnetoencephalography and the clinical applications of these studies by an international group of experts. In this Sixth Edition, editor Donald Schomer MD, has updated the technical information and added a chapter identifying a variety of artefacts.
2. Analyzing Neural Time Series Data: Theory and Practice (Issues in Clinical and Cognitive Neuropsychology)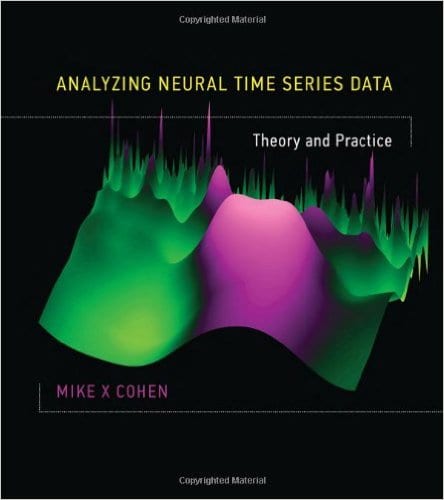 Author: Mike X Cohen
The book serves as a guide to the theory and practice of analyzing electrical brain signals and can be understood by readers without extensive formal training in mathematics – therefore serving as a great base for more advanced data analysis methods. The book covers the conceptual, mathematical, and implementational (via Matlab programming) aspects of time-, time-frequency and synchronization based analyses of MEG, EEG and LFP recordings.
3. Practical Approach to Electroencephalography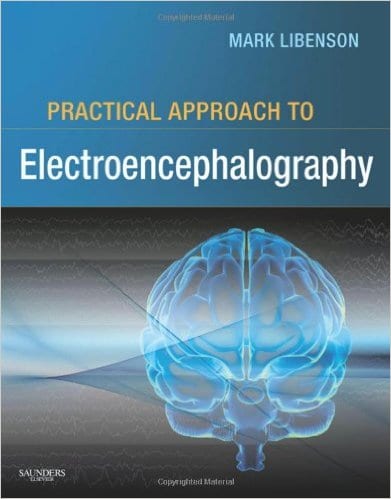 Author: Mark H. Libenson
Serving as a basic guide to EEG, the book provides case studies of the neurologic disorders and conditions in which EEGs are used. Furthermore, it describes a variety of examples to help the non-experts interpret the results and identify normal and abnormal EEGs. The book includes discussions of various disease entities like epilepsy and considers not only the technical aspect of the approach, but the patient as well.
4. Primer of EEG: With A Mini-Atlas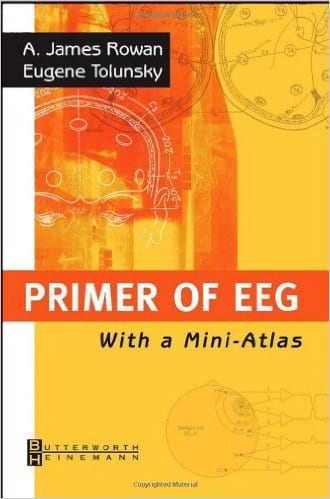 Authors: A. James Rowan & Eugene Tolunsky
A practical handbook for EEG covering the fundamentals of electroencephalography and key aspects of EEG interpretation. It includes a comprehensive mini-atlas of EEG tracings, a glossary of EEG terms and an appendix with practical guidelines on diverse topics such as how to treat status epilepticus. The book also explains the most prominent EEG phenomena and tips for reading and reporting EEGs that includes clinical pearls.
5. Practical Guide for Clinical Neurophysiologic Testing: EEG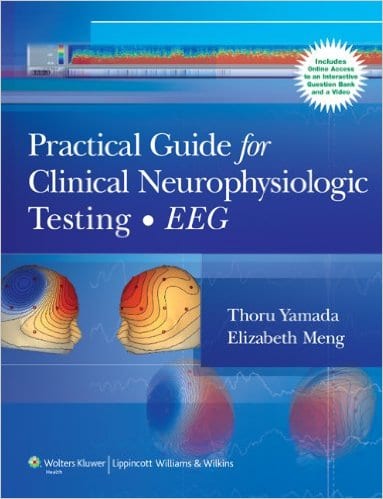 Authors: Thoru Yamada & Elizabeth Meng
The book focuses on digital recording and analyses based on digital data with an emphasis on pattern recognition, artifacts recognition, technical pitfalls and the clinical correlates of EEG. The first part of the book explains the technical aspects of electroneurodiagnosis, including basic electronics and recording techniques. The second part covers the clinical applications and diagnostic utilities of electroneurodiagnosis for various central nervous system disorders.
6. Fisch and Spehlmann's EEG Primer: Basic Principles of Digital and Analog EEG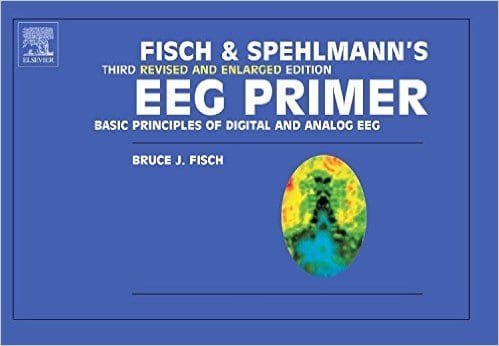 Author: Bruce Fisch
The book contains concise presentations of the fundamentals of EEG technology and interpretation for both beginners and experienced readers. Furthermore, the book includes a review of the latest digital EEG technology and EEG clinical correlations. Mirroring the actual practice of EEG, the second half of the book is uniquely organized according to EEG findings and patterns rather than individual disorders and diagnoses.
7. Electric Fields of the Brain: The Neurophysics of EEG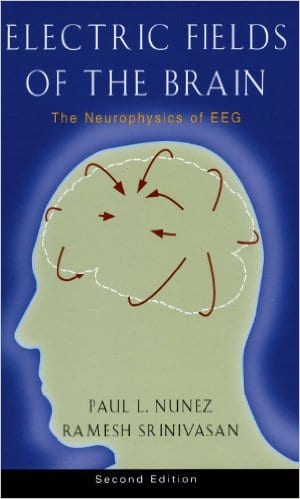 Authors: Paul L. Nunez & Ramesh Srinivasan
Originally published in 1981, the book filled the large gap between EEG and the physical sciences. It has since then been updated with the latest data and gives its readers a thorough understanding of the principles of electric fields in living tissue and using hard science to study human consciousness and cognition. The book also covers topics such as micro and meso (intermediate scale) synaptic sources, electrode placement, volume conduction, power and coherence measures and dynamic signatures of conscious experience.
8. Introduction to Quantitative EEG and Neurofeedback, Second Edition: Advanced Theory and Applications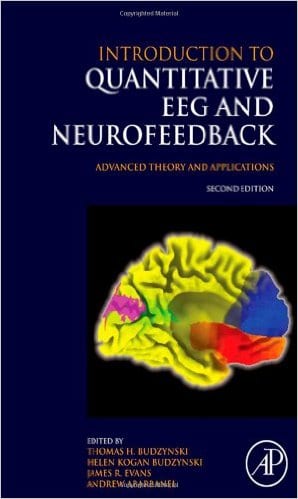 Editors: Thomas H. Budzynski, Helen Kogan Budzynski, James R. Evans & Andrew Abarbanel
Quantitative EEGs and Neurofeedback offers a window into brain physiology and function via computer and statistical analyses. The book gives a broad overview of topics relating to the techniques and is a great tool for both beginners in the field and clinical professionals. The second edition includes revised coverage of advancements, new applications like Aspberger's, LORETA, music therapy and the newest protocols in Z-score training and treatment of anxiety, ADHD and PTSD.
9. Quantitative EEG, Event-Related Potentials and Neurotherapy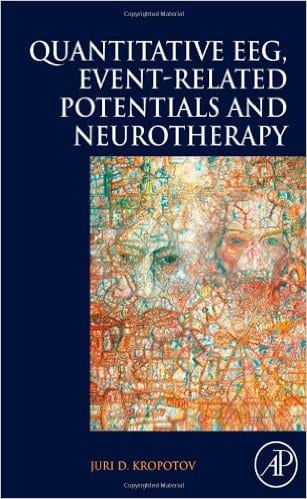 Author: Juri D. Kropotov
The book provides a thorough description of various EEG rhythms and ERPs, conventional analytic methods such as spectral analysis and the emerging method utilizing QEEG and ERPs. This is then combined with conventional EEG-based neurofeedback, brain-computer interface, transcranial Direct Current Stimulation and Transcranial Magnetic Stimulation. The book also includes information for treatment of various disorders such as addiction, ADHD, Schizophrenia, Alzheimer's and OCD.
10. EEG Technology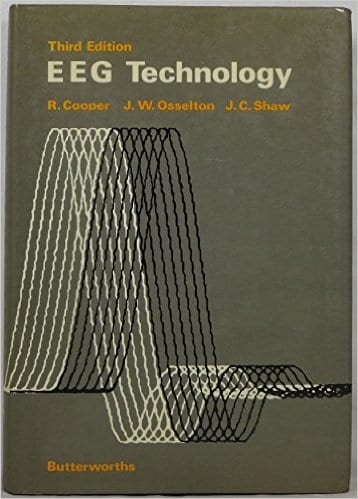 Authors: R. Cooper, J W Osselton & J C Shaw
The book provides thorough information and advice related to the EEG technology. The newest edition includes information of the major advances in signal analysis procedures, more factual descriptions of EEG records, new material on Hjort's source derivation, frequency-response controls, in-phase potentials, electrical safety, the use of miniaturized amplifiers for ambulatory monitoring as well as an entirely new chapter offering insight into event-related potentials.
11. Rhythms of the Brain (BONUS BOOK)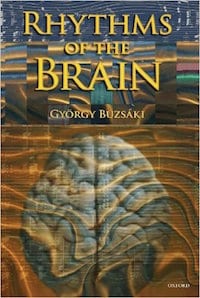 Author: György Buzsáki
A must-read for neuroscientists, this book provides thorough information and advice in a sequence of cycles with the physics of oscillations through neuronal assembly organizations to complex cognitive processing and memory storage. A challenging read that allows a deep understanding of the most complex computational mechanisms which underlie our cognitive abilities.
We hope you have found some great inspiration and will be filling your head with knowledge. If you are still thirsty for more insights into the world of EEG, feel free to check out our free EEG pocket guide, to take your insights to the next level.
Free 59-page EEG Guide
For Beginners and Intermediates
Get a thorough understanding of the essentials
Valuable EEG research insight
Learn how to take your research to the next level