Recently, long-time iMotions collaborator and behavioral economics expert, Melina Palmer, the founder and CEO of The Brainy Business Inc., invited iMotions' own Dr. Jessica Wilson to join her in an episode of her popular podcast "The Brainy Business Podcast".
The two discussed the importance of testing your content, how iMotions can help you test this content both in the lab and online, and most importantly the long-running online studies the two have been working on for Melina around her website and the promotional efforts of her latest book.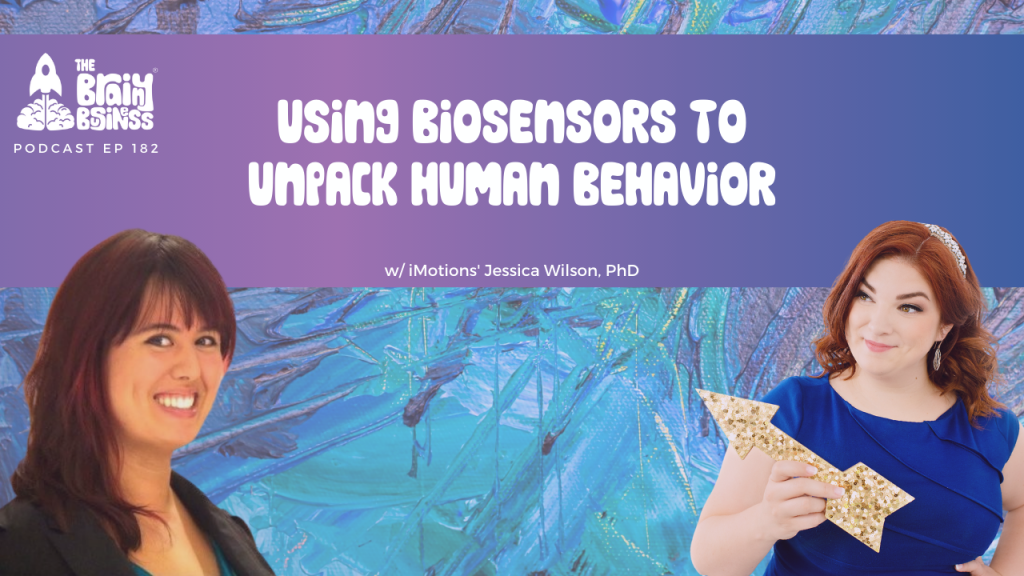 Melina Palmer has been undergoing a website redesign for The Brainy Business, and one of the tests she has run with iMotions has been a website A/B study to understand the impact of long vs. short testimonials on the user experience (Website UX) for the webpage that promotes her new book. In the episode, they go deep into these studies, illuminating the results of the research as fuel on the fire for why you should invest in biosensor testing. You'll hear:
A great explainer on the different biosensors at your disposal for this type of UX research
A dissection of proper study design and the importance of setting the right research questions
How to pair sensor modalities to those research questions so you can narrow in on actual insights without overwhelming yourself with data
Insights from facial expression analysis and eye tracking for the A/B study — and how user experience may be affected by testimonials, layout, and calls to action
On the episode page on her website, Melina Palmer describes why she values this type of testing:
Testing is so important. You don't need to do fancy stuff every time and there are so many types of testing. If you don't take the time to test, you can't know what is working and there is a good chance you are wasting time on stuff that isn't going to help you reach your goals.
Today, I am so excited to introduce you to Dr. Jessica Wilson, technical director at iMotions who got her Ph.D. in neuroscience from Northwestern University. As you will hear in the episode, she and I have been working together on a project for quite some time now and I am very excited to have results to share with you now. This episode will talk about that study we did together for The Brainy Business as well as some of the other awesome work iMotions is doing.
You can listen to the whole episode here:
Dr. Jessica Wilson has shared a few additional insights and explanation of the methodology for the online study:
29 people were recruited from Melina's LinkedIn feed – which means that way they could be located anywhere. Participants were randomly assigned to one of two websites promoting Melina's book, which had either very long or short testimonials. On the websites with short testimonials, the [eye tracking] heatmap shows a large distribution of attention over the entire site, whereas when testimonials were long, heatmaps were small and were closer to the top of the page, showing less time spent reading. Dwell time on the testimonials increased by 2% when they were short. There is a significant increase in brow furrow (8-29%) when testimonials are long. All in all, having short testimonials increases the readability of the page, captures attention more, and increases the likelihood that people will read the entire page instead of skipping past.
Stream the full episode:
Show Notes & Highlights:
Check out the show notes for a run-down of the episode for further details on the types of insights you can get from biosensors. You can always read more about the episode and subscribe to the podcast on Melina's website.
[00:40] Today, I am so excited to introduce you to Dr. Jessica Wilson, technical director at iMotions who got her Ph.D. in neuroscience from Northwestern University.
[03:31] Jessica shares more about who she is and what she does. Her background is in research and neuroscience.
[03:58] iMotions is a software company that provides a platform that can integrate and synchronize different neuroscience tools.
[05:28] There are so many different applications; iMotions does product testing, ads testing, sensory work, and more.
[08:23] The most basic setup includes eye-tracking, facial expression analysis, and skin conductance. Those three work really well together and they are also very easy to get started with.
[10:23] These tools are really helpful in certain ways, but at the end of the day the research question is king and it will help dictate what tools you use.
[12:10] Jessica shares details about video testing and applying test results.
[14:54] The data to help you make the best design decisions at the time when it counts.
[15:16] Jessica shares a study using video testing from the University of South Florida.
[16:52] The common theme in all these methods is that the most effective projects have a distinct research question and distinct variables.
[19:01] For the first phase of The Brainy Business website project, we looked at where people naturally gravitated to on the website. For the second phase of the study we adopted more of a task-based approach.
[20:47] Melina was doing a redesign of the website so she did a study with iMotions that she talked about in her book. They did two tests.
[23:21] The first thing they had people do was just a free one-minute navigation. They wanted to see if there were things they attended to more than others, if things got ignored, or if they were scattered all over the place with their attention. Just looking at the one-minute navigation both sites did pretty well.
[24:23] The differences started to happen when the task components were introduced.
[26:23] There were two tasks for the study, each with its own scenario.
[28:39] One of the best things about running a test like this is that you are really forced to narrow it down to one thing.
[31:03] The best research looks at one or two things.
[33:21] With the old website there was a 12% success rate of actually clicking on the pricing course and the success rate went up to 70% with the new website design.
[35:38] For the corporate page, it was found that it was giving too much information, reducing the effectiveness.
[36:48] Melina was able to use insights from the two tests to help with the full redesign and integrate it into other areas of the site as well.
[38:51] You don't have to use the whole testimonial. It can be much more impactful if you call out the little highlights that can get buried in a paragraph.
[39:48] In the second test, the difference between the two prototypes was how they framed the testimonials.
[41:30] People will start at the very top of web pages and you will see a lot of aggregation from the left to the right on the top and on the left side going down and slowly fading over time as people start skipping past things.
[43:23] Across most of the different measures of eye-tracking it looked like less was more in this case. Just taking the highlights from the testimonials goes a long way in being able to direct attention to the area and people will spend more time looking there.
[45:40] Melina will be including pictures and other information about the test on the Apply It page.
[46:38] Once the pandemic hit, people weren't collecting data anymore because you can't bring people into a physical lab space. They started looking at online data collection and remote options.
[48:03] You get research unrestricted by the bounds of geography. There are now more possibilities than ever for how we can collect this data.
[50:07] Melina shares her closing thoughts.
[52:37] Shop at The Brainy Business shop for that perfect brainy gear.