The pandemic may have spurred new and different consumer behaviors across almost every industry, but you could argue that this is perhaps no truer than in the tourism industry. Tourism has seen dramatic shifts in travel and hospitality patterns over the past two years. As a result, the industry has become even more introspective to determine how to adapt in a quickly-changing world, which requires digging below the surface to gather deeper insights. So, how can tourism become more sustainable by innovating and examining these emerging behaviors to better understand what humans attend to, feel, and desire with their travel experiences?
That question is what the Tourism Naturally Conference seeks to achieve. They unite industry stakeholders with academic researchers to innovate within sustainable tourism – this year with a special focus on nature-based, wellness, health & medical tourism. Recently, iMotions Technical Director Jessica Wilson, Ph.D., and Lead Data Scientist, ​​Paolo Masulli, Ph.D. had the pleasure of speaking at the conference to demonstrate how we can look to physiological and emotional signals to uncover new knowledge about how people want to travel. In this blog, we have parsed out some highlights from their webinar, which you can watch in full here.
Tourism, Emotions, and Decision-Making
Travel is hardly one size fits all, so it is important to remember that if you are studying human behavior in tourism, travelers' personal preferences and emotions will inform decisions about where they want to go and what they want to do. What makes a destination attractive to a bookworm – say, a relaxing beach vacation – may sound boring to an adventurer who prefers an extreme hiking trip. Likewise, travel goals and past experiences will affect how people choose amenities, plan logistics, and determine how to spend their time.
Emotions are integral to decision-making, as is context, meaning that as travelers sift through the choices and then have experiences on their trip, their memories, preconceptions, and personal feelings about what appeals to them will all affect how they filter information to land on a decision – and then how their memory encodes the experience.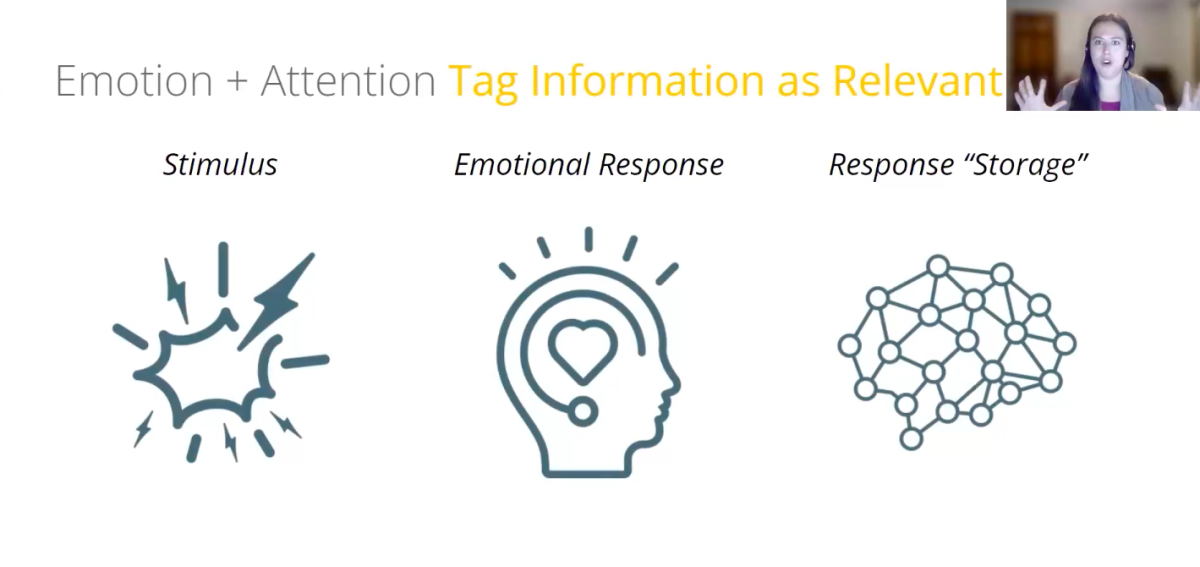 When researchers therefore want to understand how travel decisions are made, making sense of the traveler's emotions can go a long way. The hospitality industry tends to rely on traditional methods like surveys (also referred to as self-report), yet oftentimes people don't want to share their reactions to a travel process honestly, or they can't remember how they felt, or they lack the language to communicate it properly.
Extending these traditional methods to include emotion recognition in the moment can reveal hidden truths like what people are actually paying attention to, how intense their feelings are, or how they're reacting to a certain stimulus or situation. The key to this puzzle is using biosensor technology like eye tracking, facial expression analysis, skin conductance, and other wearables, combined with integrated data analysis tools like iMotions, to decode those signals. Here are some key examples of how these sensors can be applied to tourism.
Booking Flights & Hotels
Booking a flight is not always the easiest process, as travelers struggle to navigate the booking process, understand fees, and get through checkout. Screen-based eye tracking and facial expression analysis can hint at pain points by pairing visual attention (for example, fixations, heat maps, and Areas of Interest) with facial emotions when study participants perform tasks on booking sites. For example, when we looked at ease of use for three US domestic airline booking websites, we found that the airline that required a flight number to estimate baggage costs, instead of displaying the fees upfront, had the lowest reported ease of use plus the highest instance of brow furrow, which is a facial movement linked to frustration or confusion.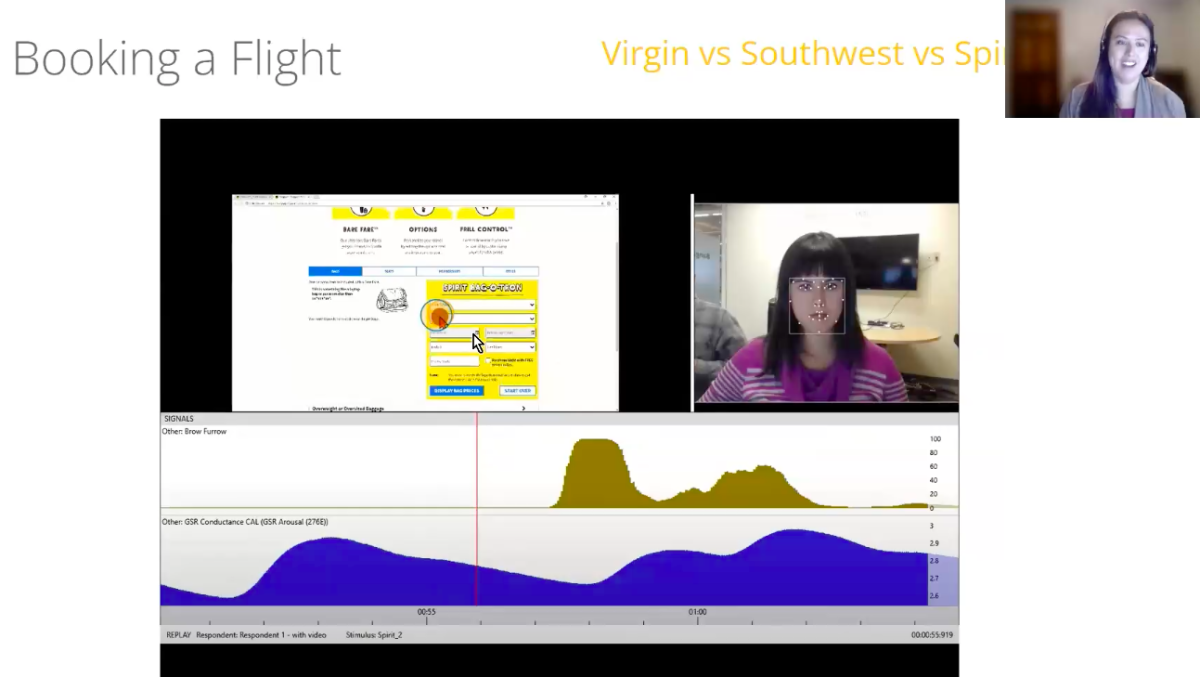 Our client Expedia is similarly interested in what facial expressions and visual attention can reveal about travelers when they are booking hotels on Expedia.com. They recruited a high volume of participants and recorded their facial emotions and eye gaze while viewing pictures of hotels.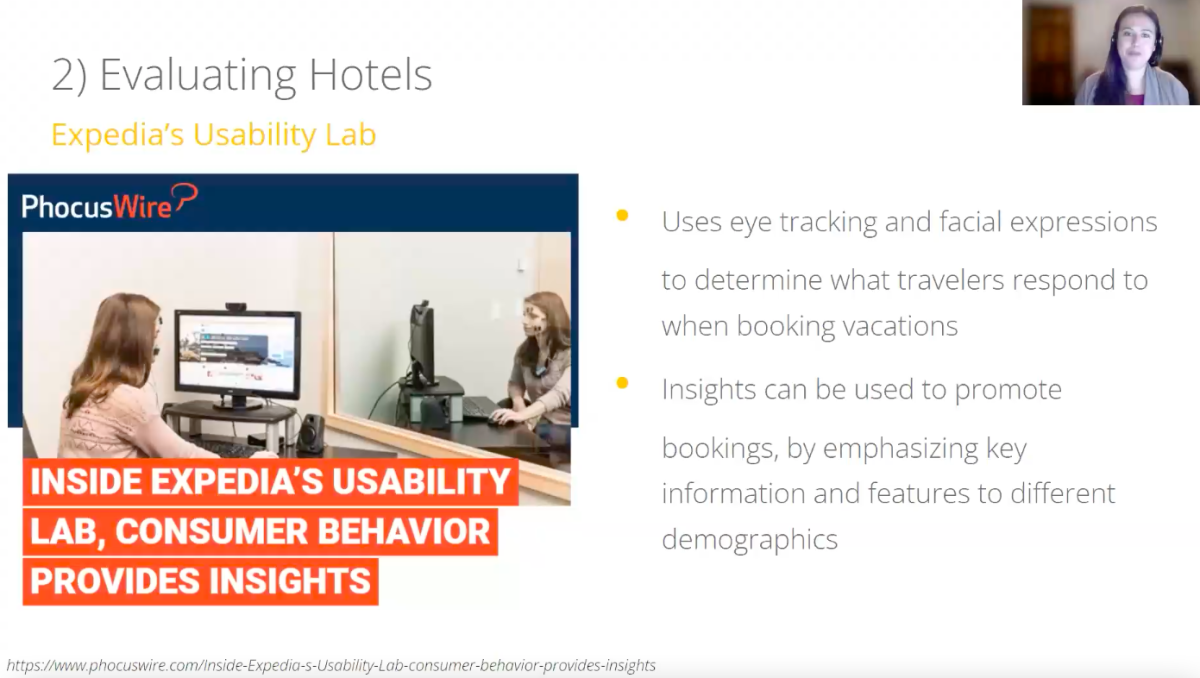 Interestingly enough, they found that French travelers tended to exhibit more smiles when they saw pictures of food, while Asian travelers exhibited more smiles when seeing ample closet space. This type of research shines value on the advantages of recruiting folks from different populations to reveal subtle differences in preferences and adapting travel experiences to them.
Researching Experiences
Research doesn't end once travelers are at their destination and are out enjoying local experiences – on the contrary. Behavioral observations performed with location-based studies can yield insights on the individual and population level that benefit from in-the-moment emotion detection.
The Museum of Science in Boston used iMotions to monitor attendee reactions to exhibits with eye tracking glasses and skin conductance. Their goal was to determine what caught visitors' attention; both what their eyes were drawn to but also how intense the reaction was to that specific moment in the museum. They are using this data to inform their upcoming exhibits and how to guide visitors through the space.
The ubiquity of smartphones has also given rise to exciting possibilities for location-based studies with wearables, which is a focus area we are especially excited about with our Mobile Platform. Assessing how people and populations navigate, explore, and react to certain locations can be performed using GPS-based triggers combined with sensors like heart rate monitors and eye tracking. For example, in Copenhagen we were curious about how participants moved about a space closely associated with the popular tourist attraction The Little Mermaid, so we logged GPS coordinates when people walked and stood around the area to create a location heat map (not to be confused with an eye tracking heat map).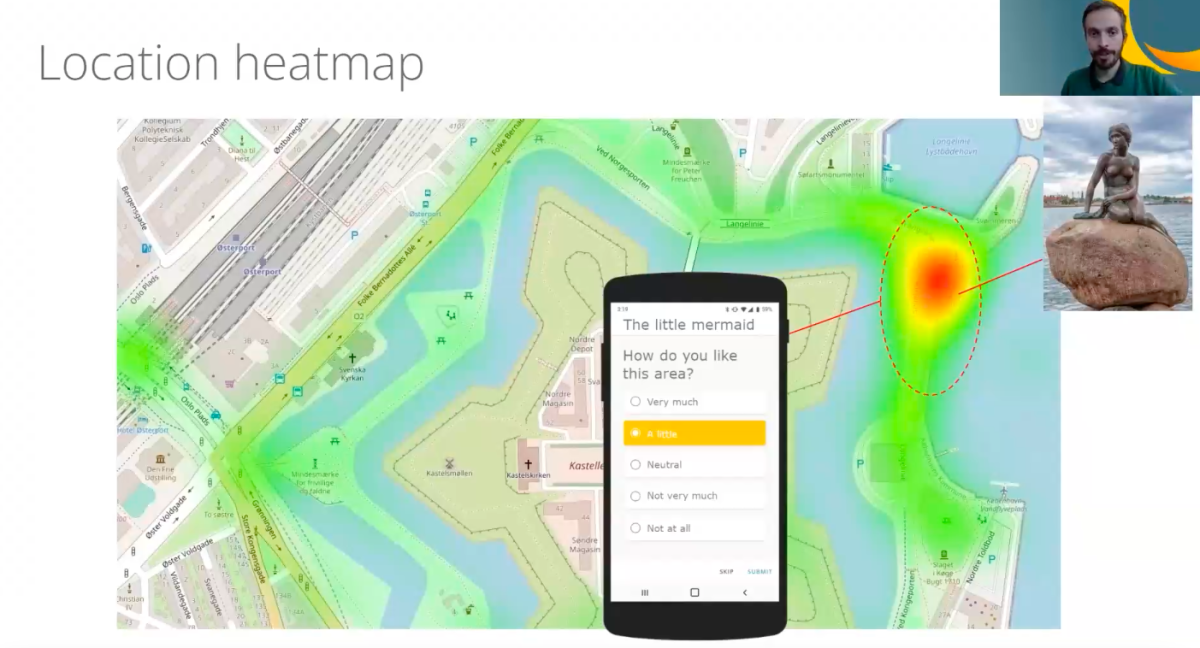 If you wanted to further detect how people were feeling while they visited the statue, you could enable a location-based survey to pop up on the participant's smartphone in the moment rather than after the fact, when participants are more likely to remember their instantaneous emotions. And if you wanted to further explore how stressful or exciting the experience may or may not have been, heart rate variability could be a relevant data point to analyze.
Here is another instance of a navigational study combining eye tracking glasses, heart rate, and GPS location from the point of view of a biker in Copenhagen.
Conclusion
We have covered a few of the examples Dr. Wilson and Dr. Masulli talked about in much more depth in the webinar, so I would recommend watching the full stream for more comprehensive explanations on study methodologies behind each of the sensors, getting the most out of your data streams, and applying human behavior research to other areas within the realm of tourism that I haven't broached here. And if you are interested in learning more about how iMotions makes this all possible, our Senior Customer Success Manager Oscar Haven will be speaking on the subject at the ENTER22 Conference on January 14th, 2022, which you can register to attend here!
Watch the full webinar here: