Footwear consistently holds the largest market share within the sports apparel industry and is expected to grow 15% over the next 5 years to $440 Billion. Boosted by popular events like the Olympics and World Cup, footwear companies are acknowledging the importance of innovation as a major factor of consumer brand perception and loyalty.
For iMotions client adidas, innovation and performance are at the core of their company values, with sport science and technology-supported products helping them become a top-50 Interbrand global brand. In a crowded market, 26% of athletic apparel consumers perceive adidas to be the most innovative brand in the market, so capturing and retaining these consumers requires new ways of understanding athletes.
Perception Research at an Emotional Level
At the Sport Science Perception Research Lab in Portland, Oregon, sports scientists are taking perception research to an emotional level. The team uses technology to help athletes tackle obstacles to improvement, which can be as much about their emotional relationship with their footwear as their athletic performance or even a shoe's construction. Simply put, they are performing sneaker emotion research.
"Every athlete wants to be better, but not many want to change. Many times, the obstacle to change isn't that they doubt the performance of the shoe, it just doesn't look good and feel good. Not every athlete can articulate exactly what they're feeling," says researcher Paul Francis.
To detect how athletes feel about their athletic footwear, the researchers monitor their bodily responses to looking at apparel through measures such as facial expressions and visual attention. In a televised experiment featured on National Geographic's The World According to Jeff Goldblum, Sport Science researcher Paul Francis had Jeff Goldblum act out some of the 7 core facial emotions to detect the probability that he was expressing contempt, joy, anger, sadness, surprise, disgust, and fear while examining an adidas sneaker. As Jeff Goldblum notes, "this is a technological way of assessing what they think about the look and feel of the shoe."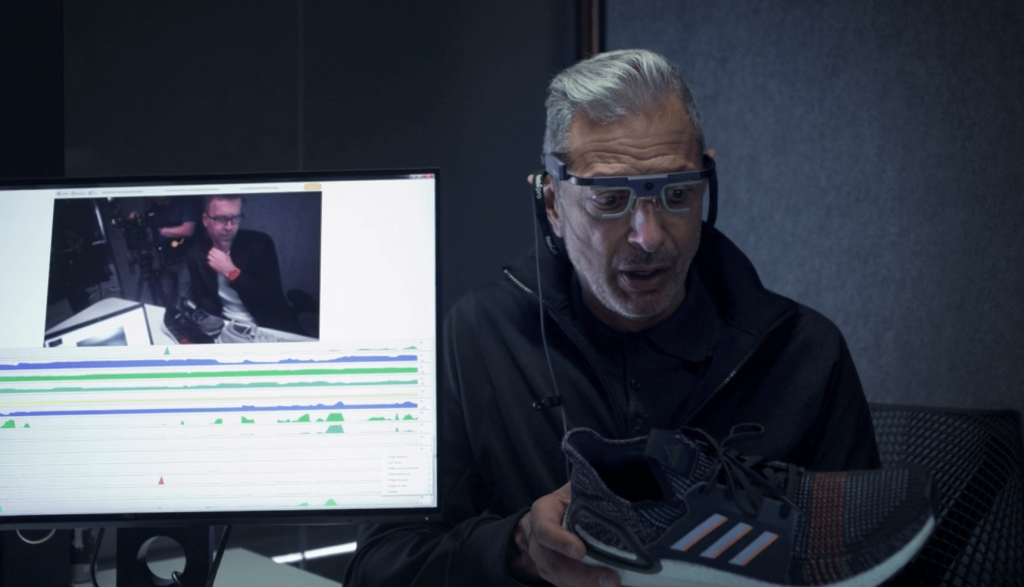 Jeff Goldblum's acting ability – as an indicator of athletes' emotions
The results of the experiment? Turns out that he's a great actor! His displayed emotions were identified correctly in iMotions while his visual attention was recorded with eye tracking glasses and correlated to the part of the shoe he was looking at.
These data give a more nuanced view of athletes' emotions than what they are able to tell researchers in words. The implications of this type of research mean that finding an emotional fit for footwear could even improve athletic performance thanks to the athlete feeling 'just right' and more confident in themselves, thanks to their shoes.
As one of the biggest brands in the market, adidas understands that tapping into neurotechnology can give way to groundbreaking methods for understanding consumer perception. Leave it to Jeff Goldblum to reach a conclusion that we at iMotions fully support: "Sneakers are as much about the brain as they are about the body."
You can watch the segment on Disney Plus.