iMotions Mobile is currently in a closed beta and is not available to the public at this time. If you would like to learn more about what is currently possible with iMotions Mobile and where we are headed please don't hesitate to contact us.
We are taking biometric research out of the Lab!
The iMotions Research Platform for human behavior research continually gives researchers around the world access to real-time data and easy data collection. We provide insight into human emotions and psychological responses otherwise not accessible through more traditional research methods and study experiments such as surveys and focus groups.
Now we are taking our ground-breaking software to the next level and we're looking to achieve this in collaboration with our global clients and community.
At iMotions, we have developed a prototype of our next-generation research software—the iMotions Mobile Research platform.
The Mobile Research platform allows you to do research 'in the wild'; in real-world settings to obtain ecological validity. It is built as a modular system that can integrate a variety of sensors built into your smartphone as well as wearables.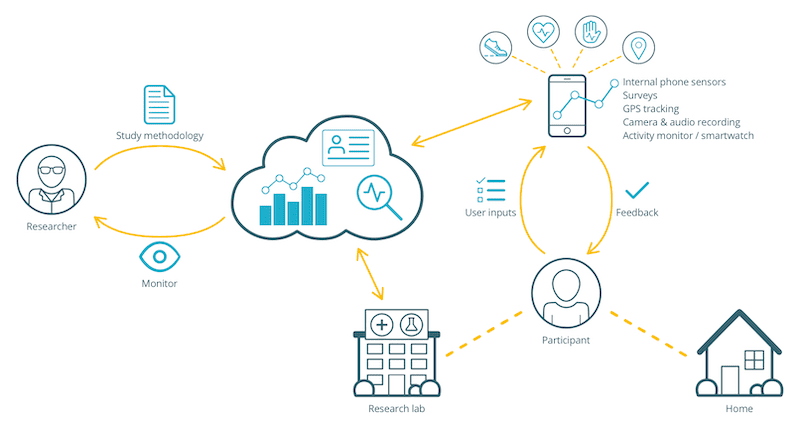 The main features of the iMotions Mobile Research Platform:
Long-term monitoring using wearable sensors
Leverage the broad range of sensors available on the market
Collect data in participants' natural environments, during their daily lives
Integrate mobile-collected data with data collected in the lab
Built-in sensors in smartphones: these include, for instance, step counters, GPS, temperature, atmospheric pressure.
The platform backend is based on the Google Cloud Platform and uses state-of-the-art technology in order to guarantee data security.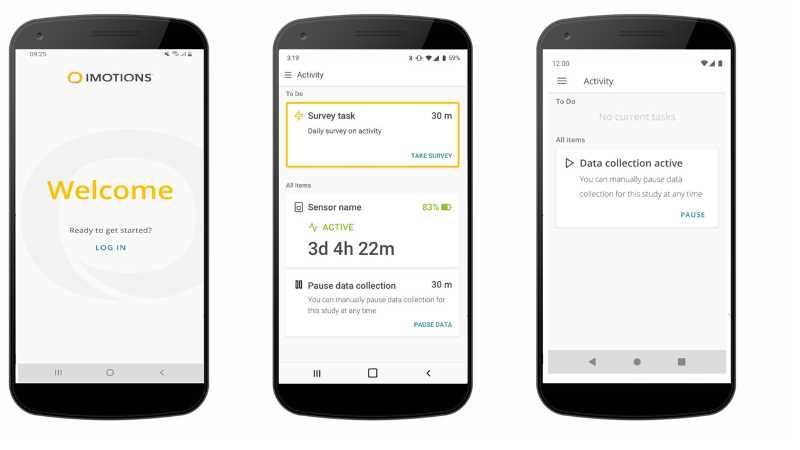 Benefits of iMotions Mobile Platform
The Lab moves around during the study
Study duration: days/weeks/months (Longitudinal studies)
Instant surveys such as Ecological Momentary Assessments (EMAs) can be triggered on the participant's phone, based on time or beacon location, allowing for interactivity to be built into the study protocol.
Flexible cloud backend: participant management, status, data export
Full access to the recorded raw sensor data and custom data visualization of the sensor data
Access to our expert iMotions Mobile team for technical support to meet your application needs
Future Development and Applications
At iMotions, we always take great pride in working closely with our clients and collaboration partners. Working together on collaborative innovations focused on a common interest – pooling expertise and resources – will accelerate great ideas into reality.
Do you and your organization see possibilities in helping inspire the next generation of Biometric Mobile Research in a collaborative project? Your research needs are the source of our next development goals, allowing for numerous benefits including providing our research expertise and integration of the best sensor and software technology in the market.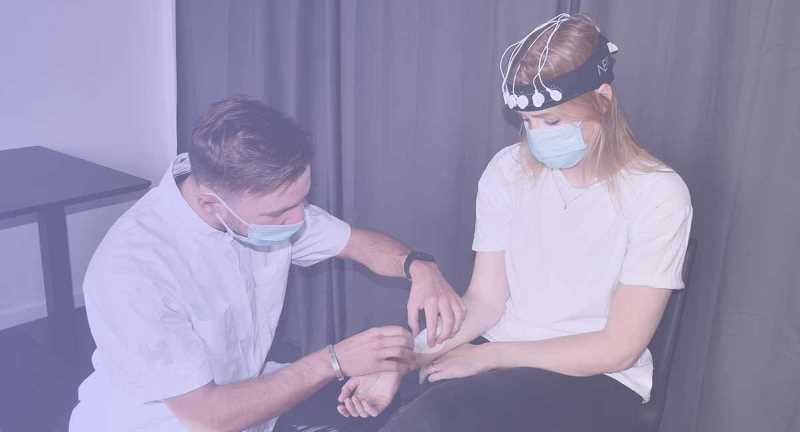 If you want to know more about our current state of development, read on!
Case Study: Clinical Research Application in epilepsy monitoring
The iMotions Mobile Research Platform was developed in close collaboration with the Department of Neurology at the Zealand University Hospital (ZUH) in Denmark.
iMotions partnered with SENS motion® accelerometers to support the neurologists' research on epilepsy. These sensors are lightweight waterproof accelerometers with a battery life of several months. The objective of the collaboration was to build a reliable system to detect epileptic seizures during a patient's daily life.
Currently, more than 20 individuals have participated in this ongoing study. They are monitored with EEG and ECG combined with an accelerometer. EEG combined with video is the gold standard for seizure detection, but wearable devices show very promising results.
This clinical trial is supported by the iMotions Mobile Platform with the software used to collect accelerometer data from the SENS patches. The study participants interact with the system by using a smartphone app (currently available for Android phones) that connects with the needed devices.
In a preliminary publication [1], the ZUH team showed that a sudden increase in heart rate is correlated with epileptic activity, and how accelerometry can be used to distinguish between an increase in heart rate due to physical activity, such as running or climbing the stairs, and one caused by an ongoing epileptic seizure.
Further work is in progress in order to combine the EEG and ECG data with accelerometry, to get an even more accurate indication of seizures based on the multimodal data collected with wearable sensors.
Stay Tuned
We have now closed the initial beta-testing phase of the iMotions Mobile Platform, and we will now dive into the findings, and data to ascertain how to make the best possible mobile data collection platform for all the clients and prospects who showed an overwhelming interest in our mobile capabilities. If you are interested in hearing more, we are always open to a talk about how Mobile Data Collection can be incorporated into your research.
iMotions Mobile is currently in a closed beta and is not available to the public at this time. If you would like to learn more about what is currently possible with iMotions Mobile and where we are headed please don't hesitate to contact us.
References:
[1] I. Zibrandtsen, P. Masulli, S. Jeuris, T. Andersen, and T. Kjaer. "Biometric Healthcare Research Platform: preliminary results using wearable sensors for multi-modal monitoring in epilepsy". In: 2nd International Congress on Mobile Health Devices and Seizure Detection in Epilepsy (2019)